Eek! It has been two years since I last posted, in fact since I ever posted. Time to try again? A lot has happened since then. As you can see in my profile, we lost our princess Jenna last year. Somehow, the desire to make hair bows and cute girly stuff went away. Even though Jenna was my dog, she was my baby girl. When I lost her, something broke inside of me. I was already struggling with depression, and this made me spiral down further. I could not bring myself to crafting anything.
My mom was getting remarried in October and she asked me to make the wedding favors. This was good, it helped bring me out of my crafting darkness. I scoured the Internet and YouTube, to find something that will be beautiful and my gift to her. I wanted to use my Fiskars Fuse to make some sort of container for the favors. I finally settled on a die by Lifestyle Crafts. I ordered a small handcarved rubberstamp Happie Stamp on Etsy. It was a teeny little heart with my mom and stepdad's initials inside. I dug through my craft supplies, and remembered that I had "inherited" my sisters Stampin' Up! supplies when she moved away a few years ago. Amongst them, I found a tag punch. I ended up making little tags out of the same cardstock as the gift boxes, Core'dinations cardstock in Iced Cocoa, and heat embossing the heart on them in copper, which I attached to the little gift boxes. I bought a Spellbinders lacy border die to make paper lace that I glued around the box. I didn't really know what I was doing, so it was a lot of trial and error. I finally ended up running the lace border die through my Fuse using three layers of tissue paper. I had also discovered Perfect Pearls by Ranger, and made a mix of Perfect Pearls and water which I painted onto the lace. This fused the three layers of tissue paper together, which was serendipity because I didn't know if I would have to glue them together or what I would do.
Back to the tags. I used Tim Holtz's Vintage Photo Distress Ink to distress the edges of the tag. I also used my Perfect Pearls mix to paint over the tax which created a resist with the embossed heart. This gave the tags a bit of a different look from the box. Now would you believe that I don't even have a picture of them? I have all the supplies still, so I will try to make another one and take pictures and post on my blog. I was just really preoccupied, because as it turned out, I ended up making my mother's wedding cake as well as her centerpieces.I do have a picture of her wedding cake so I will post that here in the meantime. I won't go into details on the cake making that'll be a story for another day… maybe even another blog (just kidding)!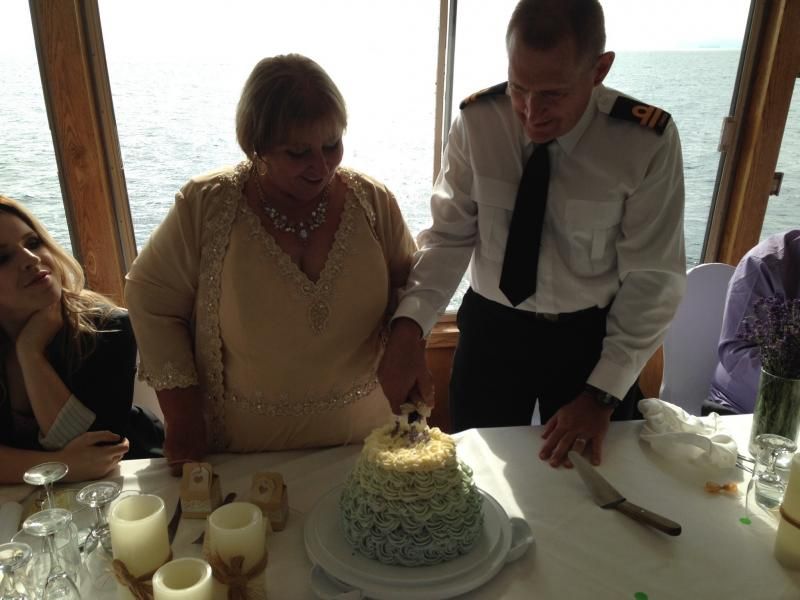 Anyhow, the whole point of this was to tell you about my path back to craftiness, and a whole different kind at that! In all my OCD anal-retentive research for my mom's project, I discovered the wonderful community of SplitCoastStampers.com. As they say, the rest is history, so now since November, I consider myself to be a fledgling cardmaker and rubberstamper. :)
Supplies used: